DESIGN AND CUSTOM EXTRUDE
• Design
With 3 process engineers and 100 years of die tooling experience standing by,
Jordan Aluminum has years of expertise to help you design a custom part for your extrusion needs.
• Custom Extrude
7" 1800 ton & 8" 2900 ton extrusion presses
State-of-the-art Air and Water Quench
Comprehensive Alloy Range
Jordan lead press personnel boast over 20 years of experience on average. Our die shop engineers boast an average of 30 years. We know extrusions.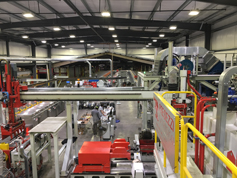 CAPABILITIES / DESIGN AND CUSTOM EXTRUDE